A Sumptuous Journey!
ARABELLA offers a captivating layout that provides a compelling journey that lasts well beyond a quick scan and becomes a lasting treasure. As a reader of ARABELLA we know you share our
love of all things
art.
Every issue supports and promotes creative talents that we think might otherwise go unnoticed in the contemporary landscape. You have told us how our storytelling inspires and engages you in ways that are quite unique. And you have told us how important ARABELLA is in your life – from morning coffee to relaxing at bedtime.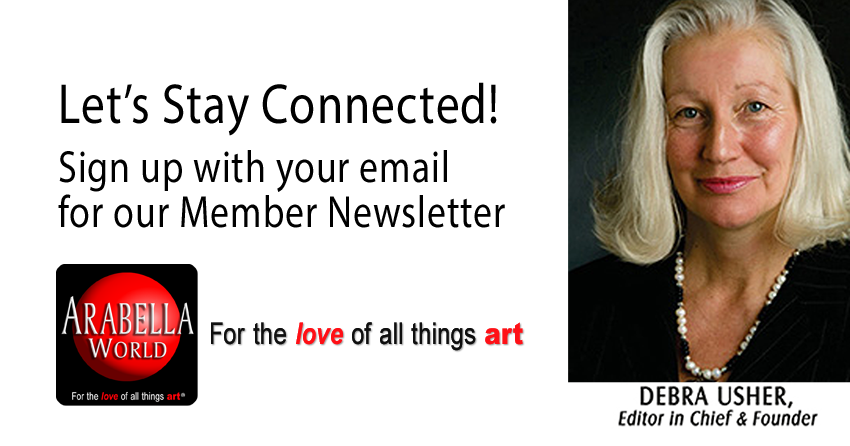 Member Newsletter
For 2023 we now offer a special Member Newsletter that provides more indepth information on past and present articles, creators, and our supporting artists, advertisers and sponsors. In coming issues we will be highlighting our journey and share digital copies of previously printed articles that we hope you might remember but still find engaging. Many are timeless. For new readers or those who have just caught up with us in the last few years, we hope we will inspire you to consider how you might support the creative talents in your community and if possible find ways to join us in our
love of all things
art.
Newsletter Library
Sample issues of our Member Newsletter are AVAILABLE HERE.


Our Mission
Our dream has always been to produce the most exquisite fine art and design magazine edited for those with a passion for transforming the ordinary into the extraordinary and living life well. Over the years we have provided readers with in-depth information on the best of art, architecture, landscaping, and interior design from the traditional to the contemporary, from the local to the internationally inspired. Our editorial focus has been current, historical, futuristic and environmentally sensitive. Along the way, we have expanded our storytelling to include our
love of all things
art
which has expanded the scope of readership interests. At the same time, economic and technology changes have moved us from being a leading print copy publisher to now a leading digital publisher.
What ARABELLA Offers
Unlike many arts and culture publications ARABELLA is unique in
going beyond the boundaries
of traditional academic discourse. We try to look at the world in a different way and discover the many hidden treasures that await. This is based on years of work researching and advancing career progression. Creative talent is something that develops over time and is reflected in an
aspiring, achieving and accomplished continuum
. Progress up or along the continuum requires appropriate recognition and nurturing. As any parent recognizes, this is a medium to long term process. We acknowledge that our focus doesn't usually result in quick, high financial returns from investments in the traditional market for those already deemed
accomplished.
An investment in our mission relies on those who believe in altruism or a belief in social entrepreneurship as a foundation for making advances socially, culturally and economically.
Who Benefits?
We believe there are clear benefits in promoting creative talent that might otherwise go unnoticed in the contemporary landscape. There are many who benefit:
Patrons Can Make a Difference!
Finally, having personally invested significantly, we now seek patrons who share our
love of all things
art
and are excited to join us in promoting
aspiring
and
achieving
creative talent. As a patron you get access to exclusive content, early insight and input into upcoming editorial stories, as well as direct introductions to our writers, artists, galleries and a wide range of creative businesses. Most importantly, you get to make a difference in advancing careers, opening doors and making dreams come true. We look to Patrons to share their insights of the arts and culture sectors and provide input and guidance on our focus and editorial.
[Email us to learn more]
OR
[GO HERE TO BECOME A PATRON]

We have removed the PAYWALL from all of our digital publications during this COVID-19 crisis. The link above will provide you free access to the library of all our digital publications to date. SHARE THE LINK and enjoy over 3000 pages of art, architecture design, landscapes and gardens. The link below connects directly to our current issue.


It Starts With A Dream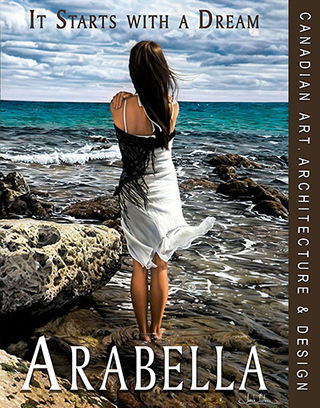 The Best of ARABELLA
(from 2008-2010).
CLICK or TAP image for more information
The Love of Flowers
Celebrating Nature's Art:
40 artists with a special passion
CLICK or TAP image for more information
Specialty Digital Publications






NEW CHILDRENS' BOOKS
100 Limited First Edition Copies Available
Princess Wolfie Books are a series adventure books for children of all ages. The new releases are HARD COPY with hand-stitched binding and the FIRST EDITION is limited to 100 copies.